During this fragrant workshop you will learn how to make your own unique perfume using essential oils. Let your intuition, imagination and creativity flow whilst composing a fragrance that inspires you.
What will it be? Something sensual, something sweet or maybe something spicy? Explore the world of fragrances to find out.
Want to organise a workshop with your own group of friends or colleagues? Joanne will happily lead this workshop on site. The workshop takes 2.5 to 3 hours.
A perfume is enchanting and gives you wings. It enhances your personality when it subtly floats through the air.
AromaWise Field Trip: Distil your own fragrance
A wonderful practical day of discovery
Join us for an explorative field trip. We'll start our day gathering plant material and learning about how and what to pick. Learn all about the plants and experience the distilling process from A to Z. At the end of the day you get to take your own creation home with you and you'll know exactly how to apply it in your daily life.
Explore our different distilling options:
Join Joanne's 'expedition' on a set date
Organise an active field trip with friends, family or colleagues
 Invite Joanne over to your home and capture the fragrances of your own garden or surroundings
Distilling plant materials is the separation of the pure and impure to get to the essence. Here we find the soul in all its power and vulnerability.
AromaWise on Tour: Rose Harvest in Turkey
Have you always wanted to see how essential rose oil is distilled? Are you curious about producing your own essential oils? Do you wish to experience the whole process, from harvest to final product, up close? And would you love to delve into the world of roses?
This is within your reach, because since 1999 AromaWise and the Sebat distilling company in Western Turkey have been collaborating. Together they've created unique studytours, to experience the rose harvest, production process and final product on site. These studytours are acreditated by the IFA- International Federation of Aromatherapists. These programs are available in May and June.
You need seventy velvety flowers to distill just one drop of rose oil. To create one kilogram of the so-called Isparta Gold you need up to four thousand kilograms of roses.
Free advice? Let Joanne call you back!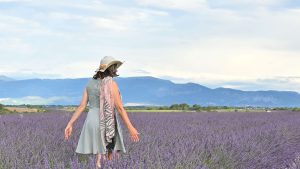 The question why plants have fragrance is regularly asked to me, including why smells some plants stronger than the other and why we can extract fragrances from one and not from the others? Enter the wonderful world of Mother Nature's scents and discover
Read more